Radical FireFly Accessories!
UL Trail Cooking Options
Let's say you want to grill some meat, a fresh fish, or even some veggies. Or lets say you crave some freshly baked biscuits, muffins, or cornbread. Or lets say you want a really light Esbit burner that hangs inside your stove as a backup cooking method. All of these options are available. Check out the gear and videos below. I'm grateful to Gary, the Zia Grill Guy, for making a special edition Mini Grill available for the FireFly (no longer available, unfortunately. BUT you can still order his full-size grills here. These can be used with the FireFly, the FireFly XL, and some other wood burning stoves as well. Look at the first video for a demo of the new options (including grilling a steak on the FireFly with a Mini Grill). The second video shows how the new bake kit works. If your mouth is watering, don't blame me!

Titanium Grilling Options
These are the lightest backpacking grills on the planet, which is why you can find them here. Nothing heavier will do! The full size grill weighs less than an ounce, and is capable of supporting up to 2 pounds. It can be used over an open fire or with a stove to support a cookpot, or to grill food directly. Now we're cooking!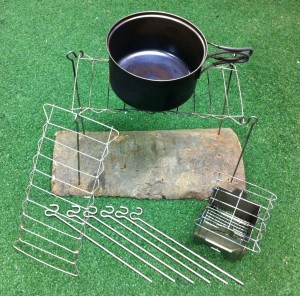 Find more information and additional photos of Gary's Grills HERE
PLEASE NOTE: Gary is no longer able to offer the Mini Grills for sale. Also, he can no longer offer to ship his products outside the 50 U.S. states, due to the increased postal costs. If you would like to inquire about his Regular and Mega grills, you can
If you are looking for my UL Hanging Esbit-only burner for the FireFly and Emberlit stoves, it now has its own
page and video
, but you can order it here too.
PLEASE NOTE: A baking kit can be ordered at the same time as a FireFly or FireFly XL and I'll make a $3 shipping rebate to you. If ordered as an upgrade or accessory for a stove you already have, you will be charged $3 for the shipping.
For the latest on when you can expect to get gear, check my
Shipping Status
Shipping outside the USA will add costs.
Go to my
Global Shipping Page
to see what this cost will be and to add it to your order.
Accessories Galore!
Backcountry Baking on a FireFly
Why not enjoy freshly baked goodies in the back country? My baking kit (heat shield,
spacer strip, folding bake pan, and baking hood) weighs only 3/4 ounce! It will work
on an Emberlit or Emberlit Mini just as successfully as it does on a FireFly or FireFly XL.
Now we're cooking!