Lightest 15" Buck Saw On The Planet
This is the 4 ounce Little Buck!
I make two saws, the 15" blade "Little Buck" and the 24" blade "MEGA Buck". The second generation Little Buck is less than half the weight of any other 15 inch saw available, including bow saws, pruning saws, Sawvivor saws, and Sven saws. Most of these weigh at least a half pound more. Both the Little Buck and its bigger brother, the MEGA Buck, have benefitted from a number of design innovations, including a rock-stable windlass configuration and a cushy handle grip. Best of all, the saw is a mere 3.8 ounces! The padded grip, which is removable, adds another 5 grams, for a total weight of 4.0 ounces.

You may seldom use a saw, depending on where and when you backpack, and your own preferences. I use my own Little Buck for trail clearing and related trail maintenance and to cut firewood in the winter (when fires are permitted and there is an existing fire ring). I really like that it can collapse down to a small bundle rolled up in a bandana or my fiberglass-reinforced tyvek pouch, and get tucked into my pack side pocket just in case I need it. If you are a hunter and need a bone saw blade, I have those available as an option for the Little Buck. If you are looking for a larger ultralight saw, click on the yellow MEGA Buck link to the left to go to that page.

The saw uses three custom aluminum alloy tubes for the structural members, a very high quality European steel saw blade, and 4 feet of non-stretch Spectra cord for the tightening windlass (so that after assembly it does not loosen as you use it). It breaks down into a 15 by 2 inch bundle, assembles in less than a minute, and has no stray parts to lose. The saw blade works well for both green and dry wood. Bone saw blade available as an option. Check out the saw videos on this site to see the saw assembled, cutting a good size log, and rolled up for transport in a bandana or the tyvek pouch. It's an older video that does not show some of the subtle design improvements that I have made (time to make a new video).

The Little Buck price includes USA shipping and a reinforced tyvek storage pouch that only weighs 13 grams. I will ship in a sturdy tube and include an illustrated owners manual. Spare wood saw blades and bone saw blades can be added to your order here or from my Contact page.

Shipping outside the USA has extra costs.
Go to my Global Shipping Page to add this payment.

Join the many who can cut it!
You know you WANT one.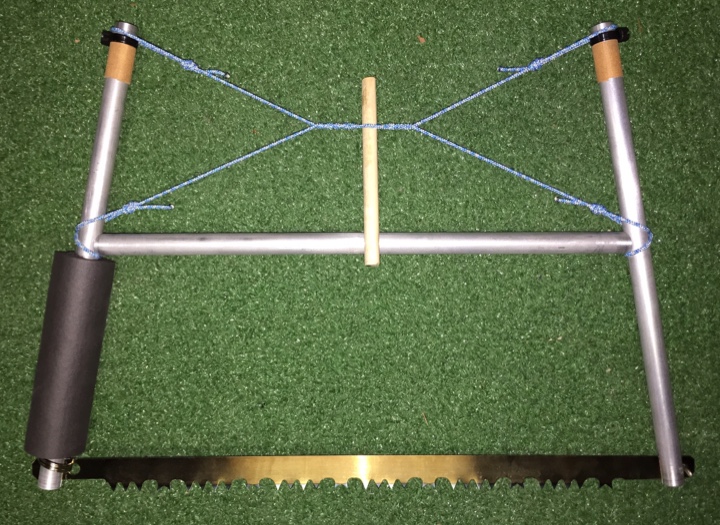 For information on when to expect gear you order, check my
Shipping Status